In Memory
Don Bender-Teacher And Coach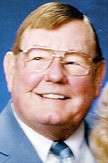 Donald F. Bender, 86, of Tomahawk Lane, Niles died at 3:25 a.m. Monday, Jan. 18, 2010 at Caretel Inns of Royalton, St. Joseph from lung cancer.
Donald was born on July 25, 1923 in Grand Rapids to Frank and Mary Bender. Coming from Grand Rapids in 1947, he became a Niles resident. Don retired after 41 years as a physical education instructor with the Niles Community School System.
For more than 25 years, he also worked as a life insurance agent with Northwestern Life Insurance Co.
He was a member of First Presbyterian Church of Niles and active as a deacon and sang in the church choir. A graduate of Grand Rapids Central High School, he continued his education for two years at the University of Michigan, where he played football. Don then earned his baccalaureate degree from Western Michigan University and played basketball there for two years. Later, he achieved his master's degree from the University of Michigan.
While teaching in the Niles system, he coached football, basketball and track, compiling an unbelievable winning record of 812 versus 178 losses. This record as well as his reputation earned him membership to the Michigan Athletic Association's Coaches Hall of Fame. He also was elected to the Michigan High School Athletic Association's Football Coaches Hall of Fame.
Later, Don became a basketball official with the Fruitbelt Athletic Association. He also served Niles as athletic coordinator of Ring Lardner Junior High School.
Locally, he was affiliated with the Niles Lions, Masons, Shriners, Elks, Eagles and Orchard Hills Country Club.
On Aug. 21, 1948 in Morris, Ill., he married Margaret M. "Scotty" Macdonald (NHS Teacher), who survives. A son, Steve (Amy) Bender of Buchanan (Class of '74) and three granddaughters, Lauren, Michelle and Alison, survive. A brother, Jack (Jane) Bender of Ann Arbor, and a sister, Marjory Bender of Michigan, further survive.