Niles

High School




Class of 1974
Welcome to the Niles High School Class of 1974 web site. It has been 45 years since we graduated from NHS and we are still going strong. As of March 2019 sadly there has been no 45th Reunion planning committee formed. If someone plans an informal gathering in Niles in 2019, please let us know via the Contact Us link and we will publish the details. Hopefully we can get a 50th reunion planned.
If you are a first-timer here, we encourage you to set-up your profile by clicking on your name under Classmate Profiles today. It's easy to Edit/upload pictures of you and your family too which is great fun for all of us to see! If you have contact information for classmates that have not yet activated their profile, please click on Contact Us on the left navigation bar and let us know so we can reach out to them to join the fun.
Always check the Message Center as you might have email messages waiting for you from your fellow NHS classmates. Check out our Live Chat functionality too...real time conversations with your classmates.
Keep on truckin' NHS class of '74!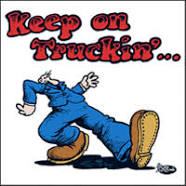 Hello Class of '74. I'm Rex Carpenter and am taking on the role of reunion leader to get the 45th reunion planned. I am trying for a possible reunion the last part of August and anyone who thinks they will attend--please send me a message at rexs73gto@sbcglobal.net. I'm currently investigating fundraising ideas, locations and caterers. If you can help with planning and live here in Niles or close by, let me know so we can have a planning meeting very soon. Let's not let 5 years or more go by without us coming together to celebrate our 45th. You can also call me at 269-684-3085 to discuss helping or to indicate you will attend the reunion. I hope to hear from you.